Page 2 - Trove Brochure
P. 2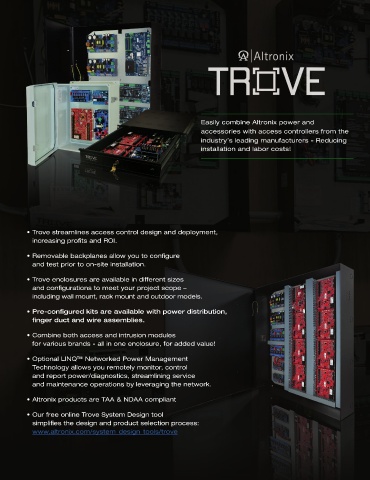 Altronix Trove™ access and power integration solutions easily combine Altronix power and
                accessories with access controllers available from the industry's leading manufacturers.
                A wide range of scalable access and power configurations simplify board layout and wire
                management, while reducing installation and labor costs.
                Customize your access control with Trove.



                •  Trove streamlines access control design and deployment, increasing profits and ROI.

                •  Removable backplanes allow you to configure and test prior to on-site installation.

                •  Trove enclosures are available in 3 sizes and have convenient knockout configurations
                  with ample room for wiring and space to accommodate batteries.

                •  Available in rack mount and outdoor configurations for added flexibility.

                •  Optional LINQ™ Networked Power Management Technology
                  allows you remotely monitor, control and report power/diagnostics,
                  streamlining service and maintenance operations by leveraging
                  the network. A built-in timer can reset devices automatically on a schedule.

                •  Proudly Made in the U.S.A.

                •  Free online Trove System Design tool simplifies the design
                  and product selection process: www.altronix.com/system_design_tools/trove



      2                                                                                                 Made in the U.S.A.